Training Classes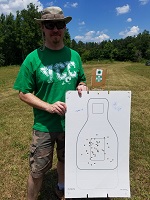 New American Arms offers a wide selection of training classes for those with no experience, some experience, or the advanced shootist. No matter your skill level or prior experience, we can provide up to date techniques, methods, and current law. Our courses are taught by experienced professional instructors with backgrounds in law enforcement, competition, and gunsmithing.
Some of our more popular classes include:
Defensive Handgun/Concealed Permit (VA)
A comprehensive class with content far beyond a "concealed carry class". This important training provides not only safety, marksmanship, and understanding handguns, it includes the laws pertaining to use of force, situational awareness, and procedures involving critical incidents. If you've never had training with this type of information, or if you had your training five or more years ago, this is a must. Any skill level, no pre-requisite.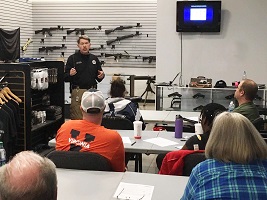 Intermediate or Advanced Defensive Handgun
Students who have successfully completed the Defensive Handgun Class taught by New American Arms are eligible to participate in 4 hour intermediate training. These training sessions are intended to allow new shooters an opportunity to review and practice the safety rules and marksmanship skills they learned in the basic class and to improve overall proficiency. This training will go beyond the basic class by including loading procedures, independent decision making, refinement of skill sets, and increased speed between target acquisition, sight alignment, and trigger press.
Advanced classes will bring students to a level on par with police officers or move towards handgun competition, dependent upon student preference.
Introduction to the AR-15 family of rifles
Learn how to operate and be proficient with "America's rifle", the most popular semi-automatic sport rifle in the USA. Learn and understand important basic principles of the manual of arms for the AR.
Long Range Precision shooting.
This is an introductory class for the shooter who wants to make accurate shots at targets at great distances. Learn about equipment, caliber selection, optics, ballistics, and the science behind a 1,000 yard shot. Includes classroom and range time!